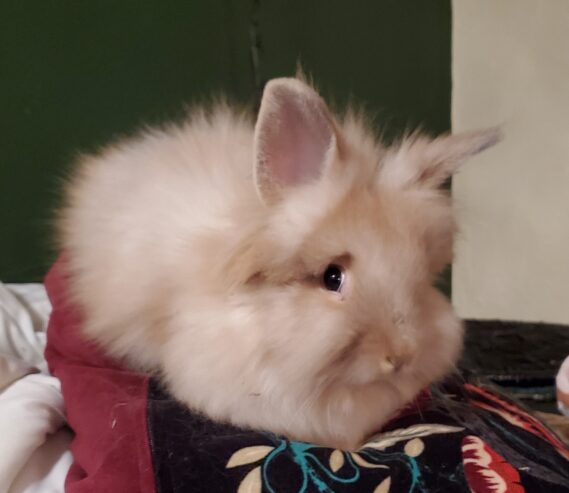 I have 6 very tame and affectionate 11 week old Lions Mane baby bunnies that need a forever home. They are used to having areas to run around, get held, and line up to have their heads or backs pet. They all get along famously and bathe and snuggle with each other. It would be nice if they are adopted in pairs or if you have a rabbit one can make friends with.
Adopting a rabbit can be very rewarding. They make excellent emotional support animals. You may not realize that they can be very expressive with their love and even purr. If you've never seen a baby bunny binkying for joy then you are missing out! These rabbits are used to running around in my outdoor rabbitry and inside.
It is very easy to train rabbits to pee in a litter box (with shredded paper instead of nasty cat litter). I learned this with my adult rabbits during the coldest part of last winter when I set them up inside. Rabbit manure makes excellent fertilizer rich in nitrogen and phosphorus. It is already the correct ph, without any need to compost it. You can sprinkle it straight on your grass or garden.
If you have never had a rabbit, please research well how to create a safe habitat for them inside or outside. It is also important to look up which fruits, herbs, and vegetables are safe in what quantities. Rabbit pellets and hay are a staple. I have some information that I can give you going over tips and diet.
$40 each or $65 for 2 bonded friends.