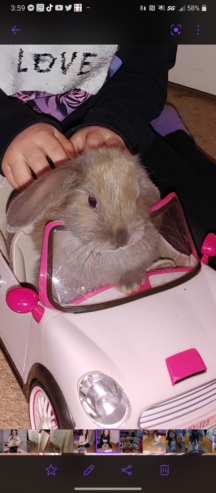 10 month buck is grey, not box trained, needs more time and space than I can accommodate inside, loves to hop more than the average.
10 month doe is agouti brown and black, very pretty and maternal. She would prefer to go with one of her babies.
6 kits were born 2/23/22. 2 are kahki base: one with white undercoat, the other with some dark spotting. 1 is mostly grey. 2 are agouti brown and grey.
claimed: grey/white bunny
None have ARBA pedigree though I am a registered breeder. They introducing to box training and sound correction. I assess personalities and have many more pictures than this website allows.