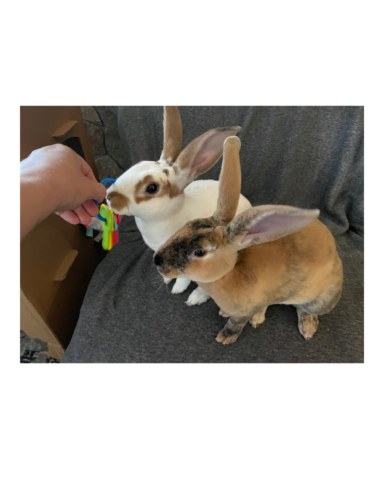 Need to re-home this sweet friendly bonded pair of purebred Rex rabbits. They are about 6 months old, eat right out of your hands, are great with other pets and kids. Would make great 4-H pets. They are not shy! The best way to their heart is through *TREATS!* (They love em'). Bucky is the male (Harlequin pattern), and Daisy is the female (white spotted pattern).
**These two are litter box trained AND spayed/neutered!!**
They are currently living indoors, but would do fine with an indoor/outdoor setup. We have put so much into the care of these sweet babies… but our living situation has changed and we cannot keep them any longer.  I can drive to where you are to deliver, or meet halfway if needed. (Cost is to recoup some of the spay/neuter fees). Questions? Please contact Sara.