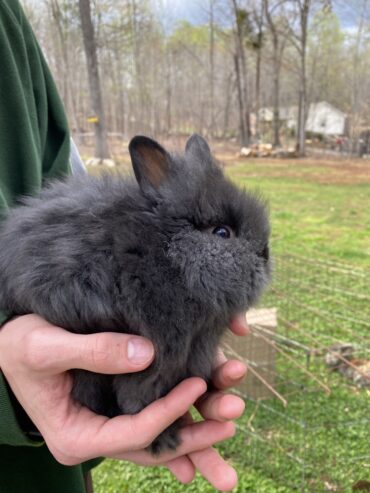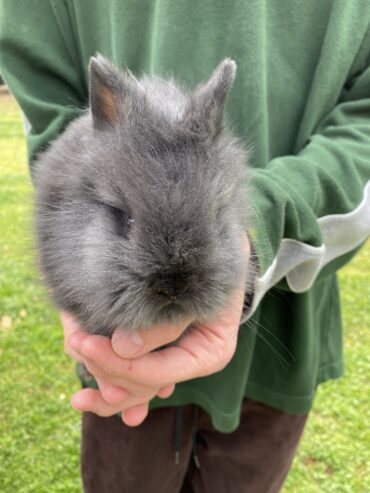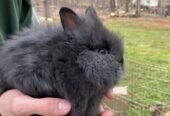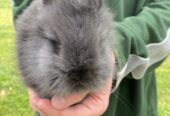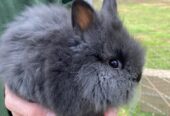 This sweetheart is a baby Lionhead doe with solid gray/ black fur. She has been so loving and curious. She will be ready for her forever home anytime after her 8 week birthday which is April 11th. I have another doe and three bucks from this same litter that I am posting so check them out. Bonus for anyone that is not quite ready at this time I have two more litters that will be ready for homes after April 28th. Pictures with their genders to follow very soon
My husband and I take a lot of pride in raising Lionhead rabbits. We have been doing this as a hobby for 8 years. They are our pets. We are not breeders. To be very honest my son unintentionally let our adult buck into the cage with three does. This was a mistake and had never happened before. We now have all of our adults spayed and neutered.  We have 18 babies currently and keeping them all would be too much of an undertaking for us. Although I would Love to! We will only allow these babies to go to good homes. Rabbits can be a lot of work. Their cages need cleaned everyday, enrichment, quality food and lots of quality time and love from their humans. We have the parents here at our home because as I said these are our pets. If you would like pictures of the parent rabbits just let me know. I'd be happy to share.
If you have any questions just ask. I'm here to help and I will respond quickly.
Features:
Dark gray/ black
Doe
Calm