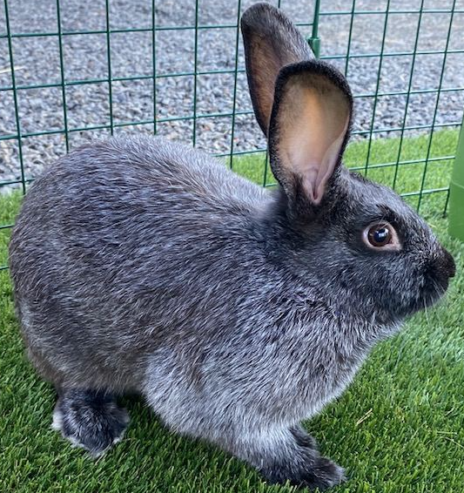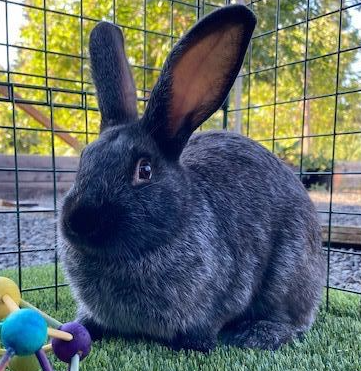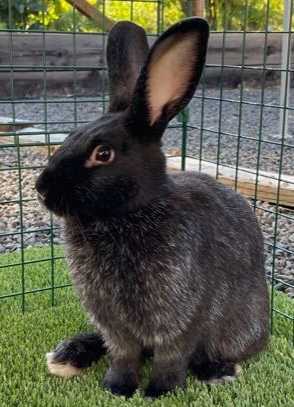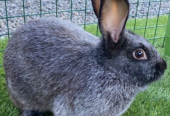 Sold Out
They were born on February 3, 2022.  These two extremely handsome and healthy fellows have been meticulously well kept, 100% organically fed with a variety of foods: Timothy Hay, organic pellets, organically grown and wild greens/herbs.
They are both extremely gentle and sweet, easy to handle and simply beautiful to look at.  They are both comfortably cage conditioned. 
They need and deserve a wonderful home, either as breeding stock or as beloved pets.  Could also be great for 4H purposes.
NOTE: They are both purportedly purebred, but come with no pedigree papers.–Unless you are interested in showing them at rabbit shows, this really isn't consequential.  Also, they are not yet "proven" due to not having quite reached their adult, breeding weight (expected within the next couple of months).
Pictured below are descriptions of each of the excellent bunnies in question.  They are kept in extremely sanitary, odor free conditions, have larger KW brand "Rabbitech" cages with 14 gauge floor wire–which is  thoroughly lined with appropriately perforated resting pads made for rabbit cages to protect from the development of hock sores.  They also get apple and pear sticks (along with raspberry canes) to chew on, along with bits of wild herb/vegetable garden forage which they enjoy, and a couple of toys to play with. No stone has been left unturned or expense spared to make sure they are as healthy, clean and happy as possible.
"STORMY"  (first bunny pictured in two pics below this post)
Slightly mischievous (plays "hard to get"—then drinks in loving attention while being held) but is always sweet and gentle. Stormy is the smaller of the two brothers (still a healthy weight), with gorgeous, more uniform "silvering" throughout his head and soft coat.  Stormy enjoys raspberry and willow leaves, LOVES Timothy hay, willow leaves and his "crunch and munch." (NOTE: Will provide this secret, easy-peasy "bunny crack" recipe)  Stormy also enjoys apple sticks, raspberry canes, and toys (particularly enjoying things he can pick up and toss around).
"HOP-ALONG CASSIDY"
Cassidy is low key, easy going and sweet, with a darker, rich/shiny black head and beautiful silvering over the rest of his body. He thoroughly enjoys attention, a wide array of healthy greens and herbs, chew sticks (apple, pear and raspberry canes) and isn't too fussy an eater. Cassidy is sweet and more than easy to fall in love with.  Also, he LOVES his homemade "crunch and munch" treats!